ONLINE BUMP TO BABY COURSE
Join our COMPLETE antenatal programme to prepare for the arrival of your baby and early parenting, all from the comfort of your own home!
We're currently offering 20 FREE spaces per month for families who are Black, Brown or where English isn't their first language.
Becoming a new mum (again) is life-changing. Pregnancy, childbirth and the first few months with a newborn are unlike any other time in a mother's life. 
This online antenatal programme means that you can feel confident about getting ready to meet your baby, all from the comfort of your own home! You can explore your birth choices, postnatal prep, breastfeeding and your emotional wellbeing with your family and birth partner.
We also have 20 fully funded places for families from diverse ethnic backgrounds access to this programme for 1 year!
This is my first experience with an antenatal course as I am expecting my first child, the course is very informative and very beneficial, so far I have really enjoyed all the content and the course layout is very clear, structured and well organised. I'm looking forward to gaining more knowledge and feeling much more confident for labour and afterbirth! 🙂
– Zayna
The sense of confidence and reassurance you'll receive from our expert team will provide you with the best tools to tackle pregnancy and beyond.
Our comprehensive antenatal course will be split across four core modules: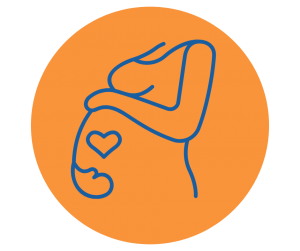 Nutrition
Common myths about nutrition in pregnancy
How to mix food to get the best nutrition value
What foods you should be avoiding
Pregnancy Mental Health
Matrescence and changes during pregnancy
Looking after your emotional wellbeing
Perinatal anxiety
How to implement real self-care
Partners matter too
Hormones and Birth Physiology
How your body & your baby work during birth
What to expect when it finally starts
Common things that can make birth difficult
What you can do to help the process
Birth Positions
How your position affects the birth
Optimal birth positions
How your birth partner can help
Different birthplaces and how they can influence birth
Pain Management & Choices
BRAIN
How to use BRAIN to help make the right choices for you
Making decisions under stress
Quick guide for partners
Natural Pain Management
How pain works physiologically
Water as a natural pain relief
The power of breathing
Visualisations & affirmations
Aromatherapy & massage
How hypnobirthing works
Medicinal Pain Management
What are your options and how they work
What you need to know about drugs in labour
4th Trimester
Postnatal symptoms inc. recovering after cesarean
Babies transition womb → world
Postnatal planning
Postnatal Mental Health
Baby blues vs postnatal depression
Tools to manage postnatal mental health
Partners, their role and experience
Breastfeeding Basics
What you need to buy during pregnancy
What to expect in the first two weeks
Breastfeeding milestones
How to tell your baby is getting enough
Each module takes approx 2-2.5 hours each and will be pre-recorded for you to enjoy at the right time for you.
We have fully-funded spaces for Black, Brown families and those who's English isn't their first language, to access the Bump to Baby Course for free. We only have limited spots available, so sign up now to secure your place.
All you have to do is apply by completing the form below, there is no need for a referral.
If you don't fit the criteria, you can still access this programme for only £50. All profits go back into Support ME to deliver more projects.
"Pregnancy, childbirth and the first few months with a newborn are unlike any other time in a mother's life. Run by two experienced doulas and co-founders of Support ME, parents can feel supported and well-informed during this time with us.

We really encourage pregnant women in Nottingham City with high-risk pregnancies or those having to self-isolate to book onto our free course."
— Nadine Otting, Volunteer
Ready to Start Your Antenatal Journey With Us?
*Please note you can only apply for the funded places if you fit the criteria We are working hard behind the scenes to secure funding to enable us to open up this course to a wider population. Places are also restricted, on a first-come, first-serve basis.